"Morning. It snowed………. AGAIN"!!!
Each morning I always look out to see who is at our feeders. Yes FEEDERS plural, more than I want to admit to. Lately the bird mix has changed big time. Not just for the morning birds but for the entire day. Our usual mix for years has been the regulars: Sparrow, House Finch, Blue Jay & Flicker and the less regular: Downy Woodpecker, Junko, Nut Hatch & Chickadee. Lately the Sparrows have must have found a better place to go as we have few Sparrows coming to visit since this cold snap.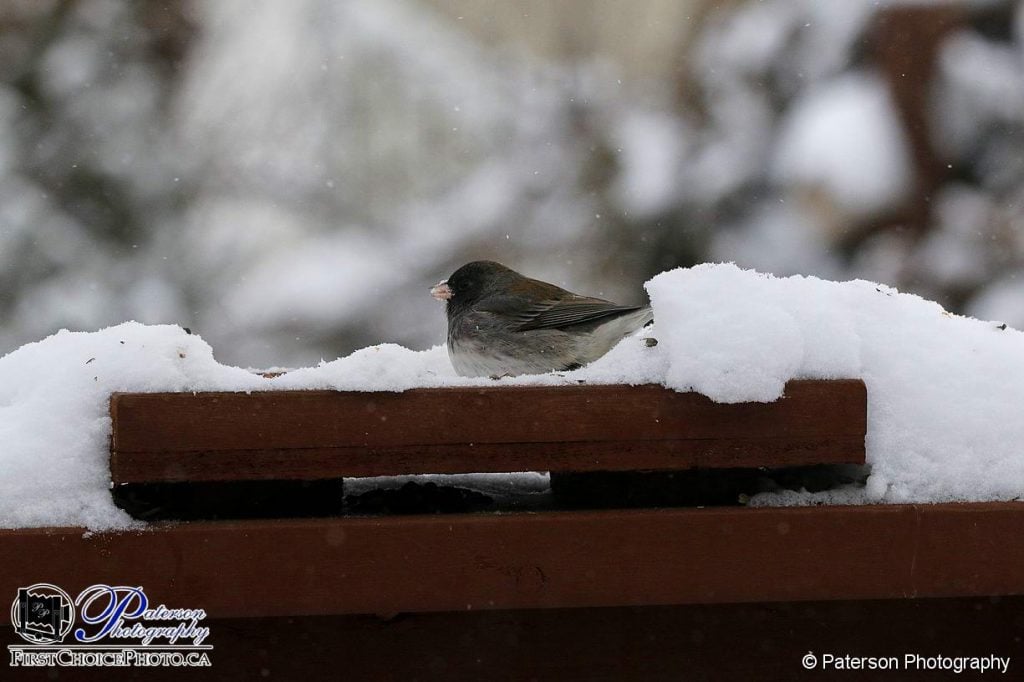 The one bird that is taking advantage of the feeders is the Junko. There are about 20 of them that have moved in and taken over. They are the first to arrive in the morning and the last to leave at night. When the Blue Jays are sitting in the trees screaming to have their food cleared of snow the Junkos are happily eating away. When a Flicker swoops in to claim the peanut/sunflower tray they move to another feeder making the best of the situation.
Early bird gets the feeder
This guy was the first one this morning. Digging through the snow to find his breakfast while the other feeders were still abandoned. He flew away once when I walked past the window but not more than 5 feet from the feeder and as soon as I walked away he was back. He had the look on his face that said he was not impressed with the snow but was fine with having the feeders to himself.
If it was not so cold I would put fresh water in the bird baths for them today. But with it being so cold by the time I add the water and get back to the house it is already freezing over. Oh well, they have lots of snow to eat for moisture and next week it is suppose to warm up so I will make sure they have water once the weather gets closer to freezing.
The good part of all the feeders is that I can take pictures without leaving the warm house. Shooting through the window may not give the best images but when it is -20C outside, snowing and blowing I don't mind the windows. Well time to see who is outside now and take a few more pictures.